Peter J. Shovlin Sr. - Musician and Craftsman
Born at Loughros Point, a townland outside Ardara, Co. Donegal, Ireland in 1931, Peter James Shovlin was one of ten children to John and Elizabeth Shovlin.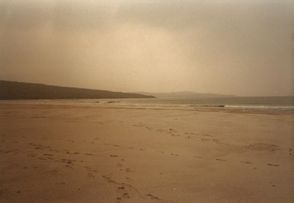 Daily life included farming, cutting turf and weaving of fabric.  Music is a natural part of the Irish culture and the music of the fiddle was introduced to Peter by listening to his mother's nephew, Patrick McNelis, 10 years older than Dad. 

Peter attended local sessions listening and putting tunes to memory until his sister, Kitty, bought his first fiddle at age 17 for 3 Irish pounds.  It was white pine and made in a local shop. Continuing his self-teaching, Peter says while at home he "drove them crazy...squeak, squeak, squeak.  I love the fiddle...couldn't tie me away from the fiddle."  On a summer day he'd come home to eat from working in the field and would play a bit.  When he was still "squeaking," it bothered his father that he delayed returning to the field.  After Peter started to play a song, his father didn't mind.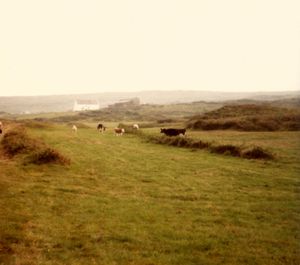 He left that fiddle behind at home when leaving for the US in 1957 and didn't see it again until 22 years later.  It was still in good shape.
Life brought Peter to England for work, a trade, then marriage to Sheila, also from Co. Donegal, a move to America in a further search for work, and the start of a family which would grow to eight children.
The trade of carpentry became another passion for Peter and would lead him to the skills required to eventually try his hand at making his own fiddle. 
There was always the sweet smell of wood shavings near Peter's workbench.  That smell would drift to other parts of the house depending upon what room he was remodeling.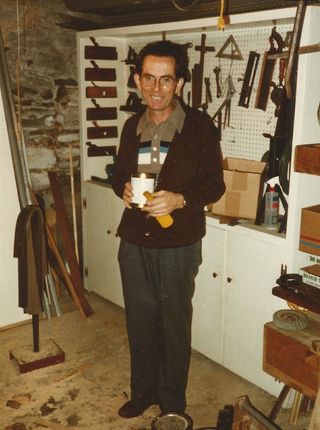 Finally, Peter managed to carve out some time for a personal project, his first fiddle.
Initially, Peter set out to make is own fiddle completely from scratch.  But, various types of wood go into the making of a fiddle and requiring, among other things, lengths of maturity.  It was fellow musician, Curt Cooper, who told Peter of a company which offered kits that would include blocks of the matured wood needed.
Choosing a Stradivari model, Peter began in the spring of 1991 spending many a spare hour at his workbench whittling, chiseling and sanding. 
The first phase included the making of dozens of templates of different lengths and curves.  The wood for the face and back of the fiddle started at 3/4" thickness but would be chiseled and sanded to as thin as 7/64".  Templates would check the gradual depths of the long curves.  Much time and patience was needed here for good reason - sound.  With the right measurements, a tailor gives a good fitting suit; the violin maker gets a sweet tune.
Other facets of construction required Peter to make certain tools like the "graduating caliper" used to measure the thickness of the wood.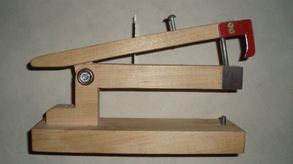 A "bending iron" was made from a piece of an old muffler pipe inside of which a heating element was inserted.  This was used to bend the wooden sides and inside supportive ribs of the fiddle to the required form.  Clamps were needed when the sides had to be held in shape and more clamps for when the face and back were glued together.  These clamps were handmade with old pins used to hold the oars in place on Peter's earlier made curragh as well as bolts, nuts and rubber for cushioning. 
The tip of an old saw was used to sand when he needed something stronger than sandpaper but gentler than a plane.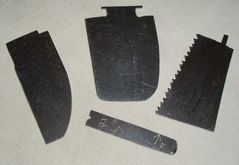 Purfling is the decorative edging on the top and bottom and for this this he used the end of another saw cut to fit that 1/16" channel.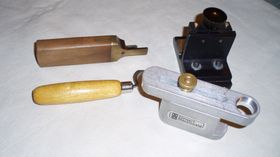 Using these tools, templates and trained eye, one piece after another was glued and fitted together.  A blond varnish was chosen as Peter hadn't seen a fiddle of that color, since leaving Ireland.
Peter was so anxious to get the strings on and play his new violin, he can't remember what tune he played first.  But the tunes played since are many and varied, including those learned on his first fiddle.
Much of the fiddle is made of a type of wood called flamed maple named for the resemblance to the dancing flames of fire.  Perhaps this is what calls the dancers to the floor as they match their movements to the fire of the fiddle music.