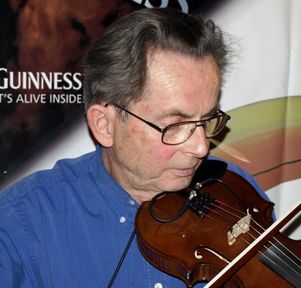 Welcome to Shovlin Violins and we hope you enjoy the music.
Violin or fiddle, musicians and those listening decide that particular designation with the type of music played.
The finely tuned crafting of these special instruments made by Peter Shovlin Sr. deem them violins. 
The music played by Pete would name them fiddles. 
A master "finish" carpenter with years of experience on commercial and residential construction sites and, musician since his youth playing many varied Irish tunes on his fiddle, it was a natural step to want to try his hand at making a violin. 
Pete credits the Kaschier Bros., third generation violin makers from  Germany, with encouragement at making his own:  "I became good friends with Lou Kaschier who was well known for his violin making skills especially with the Pittsburgh Symphony Orchestra.  I bought violins from Lou and he also did some repair work for me; but, listening to me he thought I could do some of the repair work myself.  The conversation continued and he went on to explain everything he knew about violin making.  At that point, with Lou in my corner, I knew I could make a violin."
Since 1991, Pete has created many violins. Some have been given to his family and others donated to charities special to him.
The remaining violins are on display within the "store"  for you to purchase and enjoy.
We hope you do, and when you do, you will enjoy the music.